Products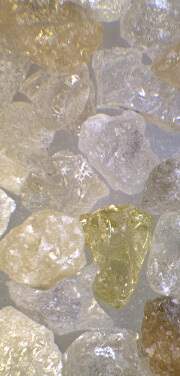 CALUMITE® is made of blast furnace slag which still as a liquid was subjected to granulation in a stream of water. Consequently, it consists of a homogeneous material in glassy form.
During processing, that slag is subjected to drying, crushing and sieving. In this way, the final product is achieved which is physically and chemically adapted to application as a raw material for glass production.
Its chemical composition and particle size distribution are listed in product specifications contained in the Downloads section.
Except for the main product, the company manufactures and sells CALUMITE® (FD) – a limited amount of finer material of the same name but supplemented with a description (FD).
The use of CALUMITE® is aimed at.
reducing the energy consumption
increasing furnace's pull
improving glass quality
reducing furnace temperature
reducing CO2 and NOx emissions
stabilizing the colour of the glass
What is CALUMITE®…
a valuable source of oxides needed for glass production
a reducer that prompts the achievement and maintenance of appropriate redox parameters
a glassy form material (99% s – something similar to cullet)
a material that is properly adapted to the needs of glassmaking
The environmental benefits that arise from the use of CALUMITE®…
reduction of natural gas and electricity consumption
reduction of CO2 emissions
reduction of NOx emissions
reduction quarrying of raw materials
increasing furnace's life span